MANUFACTURING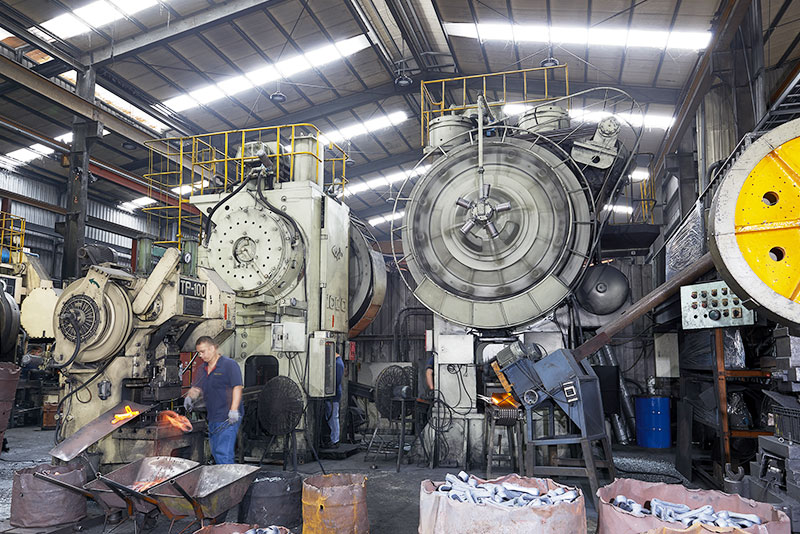 Reliability & Technologies
Yuh Chern consists of two manufacturing facilities: Our first plant in Taichung covers an area of 2,030 square meters, and our second plant in Nantou occupies an area of 2,640 square meters.The factory floors are strategically planned out with various manufacturing sections: Forging, Pressing, CNC Machining, Robotic Arm Welding, Riveting, Forming, Assembly, Sand Blasting and Warehousing. We utilizes state-of-the-art equipment from well-known brands, such as Jing Duann High-Speed Precision Hot Forging Press, Russian-imported Knuckle Joint Forging Press, Jing Feng and Seyi Stamping Press, Quaser 5-Axis CNC machine, and Extron 3-Axis (with fourth axis) CNC machines.
Reliable Brand
The combination of the above-mentioned multi-process capabilities, extensive range of materials, and advanced integration of software and hardware, we can effectively provide a full range of innovation and manufacturing services to meet the specific needs of our customers. Enhancing our drive to become our customers' most trusted provider of technologically advanced products.

Our core manufacturing capabilities include hot and cold forging, stamping, CNC machining, precision casting, and robotic welding. We utilize a variety of materials including iron, carbon steel, alloy steel, stainless steel, zinc alloy, aluminum alloy and other composite materials. We have incorporated a strategic management approach to operations utilizing ERP (Enterprise Resource Planning), APS (Advanced Planning and Scheduling System), and SFT (Factory Production Tracking System). As a result, we are capable of increasing production efficiency and reducing lead-times.